Sir Michael Tippett
Country of origin:
United Kingdom
Birthday:
January 2, 1905
Date of death:
January 8, 1998
Upcoming Performances
A Child of Our Time
Conductor: Eunice Tong
Orchestra: G20 Orchestra
September 12, 2022 | DI Yogyakarta (Indonesia) , Borobudur Court
A Child of Our Time
Conductor: Hans Leenders
Orchestra: Philharmonie Zuidnederland
September 16, 2022 | Maastricht (Netherlands) , Theater aan het Vrijthof
About Sir Michael Tippett
'What attracts one most in his music is the vibrancy and exuberance it gives off, the feeling it communicates of a richness of temperament and of humanity'. American Academy of Arts and Letters
  Sir Michael Tippett was born in London in 1905 and spent his childhood in Suffolk, making little contact with music until his teens. Thereafter he studied at the Royal College of Music and from 1928 lived in Oxted, Surrey, teaching French in a preparatory school and conducting a concert and operatic society, which enabled him to spend long periods at composition. In April 1930 an Oxted concert featured his main works to date; but these he afterwards withdrew. He then went for further lessons with R. O. Morris. These proved formative: he developed special skills in counterpoint which propelled him towards the first works of his creative maturity, his
String Quartet No. 1
(1935; revised 1944) and
Piano Sonata No. 1
(1936-7).
Both during his student days and after, Tippett responded deeply to world events - the First World War, the Depression and mass unemployment. He became involved in political radicalism, organised the South London Orchestra of Unemployed Musicians and directed two choirs sponsored by the Royal Arsenal Co-operative Society. At the same time his aesthetic ideas had crystallised in the course of several informal encounters with T. S. Eliot. The outcome of all this was the oratorio
A Child of Our Time
(1939-41), an impassioned protest against persecution and tyranny and now his most widely performed composition.
Tippett became musical director of Morley College in 1940 and remained there until 1951, giving it a new lease of musical life. The college became the focal point of the revival of Purcell's music, and Tippett presented and recorded the first performance since Elizabethan times of Tallis's 40-part motet; much new music featured, and upcoming artists like Alfred Deller, Peter Pears and the Amadeus Quartet, who were later to achieve worldwide fame. Meanwhile, in 1943, he was sentenced to three months' imprisonment for refusing, as a pacifist, to comply with conditions of exemption from active war service. He remained committed to the pacifist cause.
After leaving Morley College, Tippett devoted himself almost entirely to composition, earning a small secondary income from radio talks. He completed his
First Symphony
in 1945 and then embarked on his first opera,
The Midsummer Marriage
; like his next three operas, it was first produced by the Royal Opera House. They exerted a considerable influence upon his subsequent symphonies, sonatas, concertos and quartets.
Tippett's international reputation blossomed from his sixties onwards, partly through a proliferation of recordings of his music. He was especially esteemed in America, and some of his most significant works (such as his
Fourth Symphony
and
The Mask of Time
) were US commissions. 
Throughout his eighties, Tippett remained exceptionally active, composing, conducting and travelling worldwide. His fifth opera,
New Year
, commissioned jointly by Houston Grand Opera, Glyndebourne and the BBC, received its première in 1989, was toured all over the UK the following year and the BBC screened their own television production in 1991. Immediately after the opera came
Byzantium
, for soprano and orchestra (premièred in Chicago in 1991 and repeated the same year at the Proms) and a Fifth String Quartet (1992). His last orchestral work,
The Rose Lake
, was premiered by the London Symphony Orchestra under Sir Colin Davis as part of a two-week long festival celebrating his 90
th
birthday at the Barbican Centre, London. Subsequently, during a two-month tour of the USA and Canada, Tippett heard this greatly acclaimed work performed eleven times.
Also in 1995, following upon his autobiography,
Those Twentieth Century Blues
(1991), his definitive collection of essays,
Tippett on Music
was published, and he wrote an idiosyncratic contribution to the Purcell tercentenary celebrations,
Caliban's Song
, for the BBC.
In November 1997 the Stockholm Concert Hall presented a 12-day Tippett Festival which included all his music except the stage works. Tippett travelled to Stockholm but was taken ill with pneumonia. Although he was able eventually to return to the UK, he never fully recovered and died peacefully at his home in South London on 8 January 1998.
Tippett received many honours and awards; he was made a CBE in 1959, was knighted in 1966, became a Companion of Honour in 1979 and was awarded the Order of Merit in 1983; he was a recipient of the gold medal of the Royal Philharmonic Society.
The
Michael Tippett Musical Foundation
was set up in 1979.
Tippett in later years © Jane Bown
Tippett at work
Young Tippett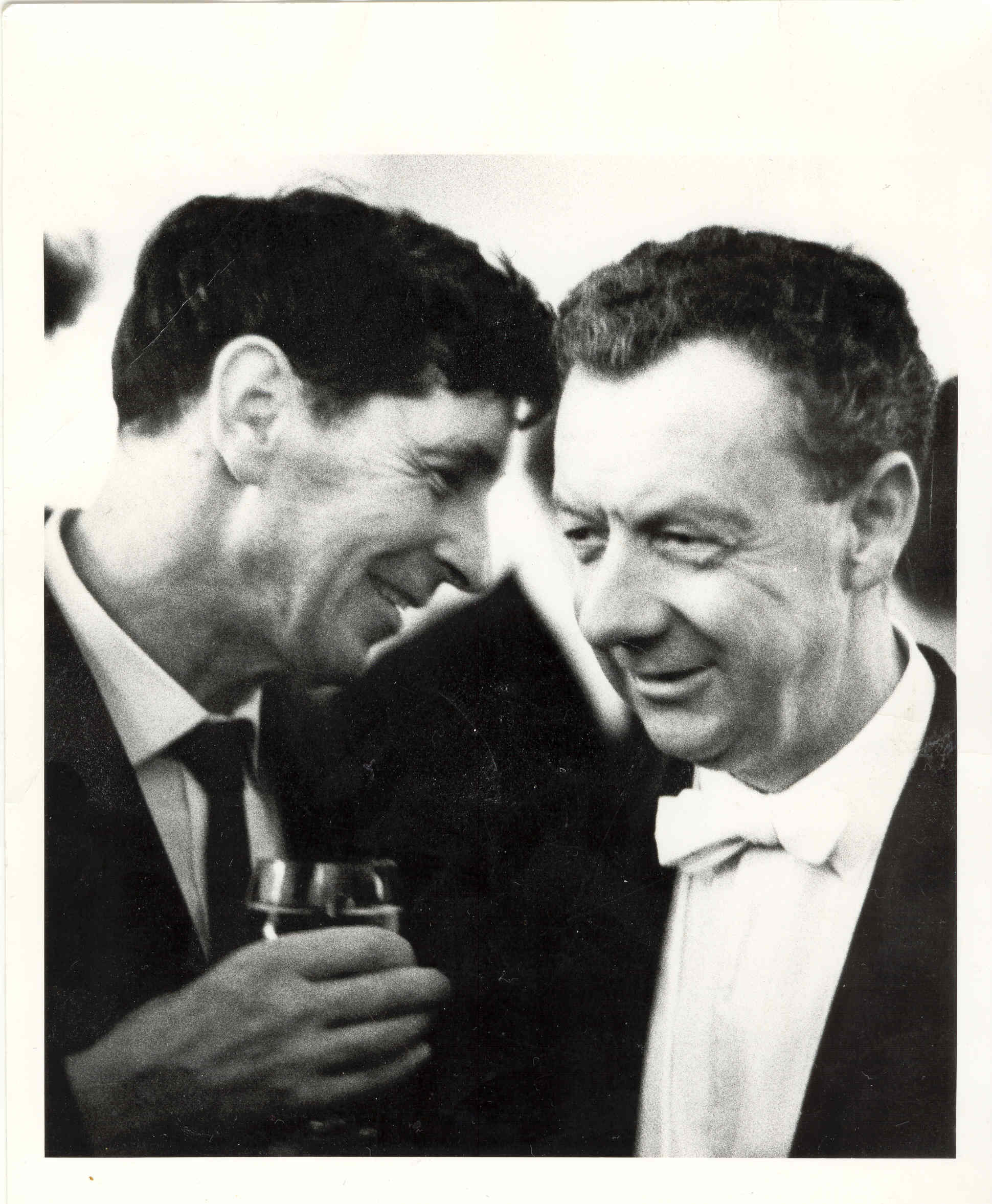 Tippett and Britten © Erich Auerbach
Photograph by Gillean Proctor. If you would like to use this image please contact the photographer directly, www.gilleanproctor.com
© Nicky Johnston
© Alex Poignant
Tippett at Piano © Ron Scherl
Tippett in rehearsal
Tippett in thought © Nicky Johnson
Tippett in the countryside © Wolfgang Osterheld
© Jane Bown
Tippett and the late Queen Mother
For high resolution photos, please contact: infoservice@schott-music.com
1905
Michael Kemp Tippett born on 2 January in Pimlico, London; Later moves to Suffolk
1909
Begins piano lessons
1914-1920
Educated in Dorset, Edinburgh and Lincolnshire
1922
Expelled from school; continues piano studies; teaches himself composition
1923-1928
Enters the Royal College of Music to study composition with Charles Wood then CH Kitson, piano with Aubin Raymar and conducting with Malcolm Sargent then Adrian Boult
1929
Moves to Oxted, Surrey.

Teaches French and conducts local amateur groups.

Meets Evelyn Maude, an amateur cellist who was to become a lifelong friend and confidante.
1930
Returns to the RCM for further studies in composition with R.O. Morris

Has private tuition in orchestration from Gordon Jacob

Begins friendship with David Ayerst, who introduces him to left-wing politics
1932
Meets WH Auden and TS Elliot
1933
Joins teaching staff at Morley College, London
1935
Briefly joins Communist Party but leaves within a few months. His political views strengthen
1935
Premiere of "String Quartet No. 1" in London
1937
Begins friendship with Eliot
1938
Premiere of "Fantasy Sonata" (later Piano Sonata No. 1) in London
1940
Becomes Director of Music at Morley College, London

Premiere of "Concerto for Double String Orchestra"
1942
Meets Benjamin Britten
1943
Premiere of "String Quartet No. 2 "

Sentenced to three months' imprisonment as a conscientious objector
1944
premiere of "Child of Our Time" in London
1945
Close friend Francesca Allinson commits suicide

Premiere of "Symphony No 1"
1949-61
Sits on the Music Advisory Committee of the British Council
1951
Resigns from Morley College

Moves to Wadhurst, Sussex
1953
Premiere of "Fantasia Concertante on a Theme of Corelli"
1955
Premiere of "The Midsummer Marriage" at the Royal Opera House, Covent Garden
1957
Begins long relationship with Karl Hawker
1958
Premiere of "Symphony No. 2"

Publishes Moving into Aquarius, a collection of talks and essays
1960
Moves to Corsham, Wiltshire
1962
Premiere of "King Priam" at Coventry Cathedral
1965
Begins long association with the Leicestershire Schools Symphony Orchestra

First of many visits to the USA
1966
Premiere of "The Vision of St. Augustine"

Receives knighthood
1969-1974
Artistic director of the Bath Festival
1970
Eyesight begins to degenerate
1972
Premiere of "Symphony No. 3" in London (22 June)
1973
Elected an honorary member of the American Academy of Arts and Letters
1974
Relationship with Hawker ends; he begins an open relationship with Meirion Bowen
1975
Visits Africa for the first time
1976
Awarded gold medal of the Royal Philharmonic Society
1977
Premiere of "The Ice Break" and "Symphony No.4"
1978
Visits Australia and Far East

Elected a foreign honorary member of the American Academy of Arts and Sciences
1979
Premiere of "String Quartet No. 4"

Becomes a Companion of Honour

Sets up the Michael Tippett Musical Foundation, a charitable trust
1983
Awarded Order of Merit
1984
Premiere of "The Mask of Times"

Hawker commits suicide
1985
Premiere of "Piano Sonata No. 4"
1987
Diagnosed with cancer
1989
Premiere of "New Year" in Houston
1991
Premiere of "Byzantium"

Publishes his autobiography, Those Twentieth Century Blues
1995
Premiere of "The Rose Lake"
1996
Moves to Isleworth, London

Suffers a stroke
for 4 trumpets

Instrumentation:

3 and 4 trumpets

Oratorio

Instrumentation:

mixed choir (SATB/SATB), soloists (SATB) and orchestra

Oratorio

Instrumentation:

mixed choir (SATB/SATB), soloists (SATB) and orchestra

Oratorio for soloists (SATB), chorus and orchestra

Media Type:

Hire/performance material

Edition:

Performance material

Instrumentation:

SATB soloists, chorus and orchestra

for low voice and piano

Instrumentation:

voice and piano

for high voice and piano

Instrumentation:

voice and piano

text by John Donne

Media Type:

Hire/performance material

Edition:

Performance material

Instrumentation:

low voice and string orchestra

text by John Donne

Media Type:

Hire/performance material

Edition:

Performance material

Instrumentation:

high voice and string orchestra

Duet

Instrumentation:

2 sopranos and piano

Ach! wie süß zu lieben

Instrumentation:

low voice and piano

Language:

German, English

Incl. Tax,

Excl. Shipping

Incl. Tax,

Excl. Shipping

Ach! wie süß zu lieben

Instrumentation:

high voice and piano

Language:

German, English

Incl. Tax,

Excl. Shipping

Incl. Tax,

Excl. Shipping

Cantata for Bass

Instrumentation:

bass and harpsichord (piano)

Wedding Song

Instrumentation:

high voice and piano

Incl. Tax,

Excl. Shipping

Incl. Tax,

Excl. Shipping

Prelude No. 3 from "Crown of the Year"

Media Type:

Hire/performance material

Edition:

Performance material

Instrumentation:

ensemble

from "Ode for the Birthday of Queen Mary"

Instrumentation:

soprano, oboe and piano

Northumbrian Folksong

Edition:

Individual part, Treble Recorder

Instrumentation:

children's choir (Mez) and 3 recorders (SSA)

Product number:

ED 12051-13

Northumbrian Folksong

Edition:

Individual part, Descant Recorder II

Instrumentation:

children's choir (Mez) and 3 recorders (SSA)

Product number:

ED 12051-12

Northumbrian Folksong

Edition:

Individual part, Descant Recorder I

Instrumentation:

children's choir (Mez) and 3 recorders (SSA)

Product number:

ED 12051-11

Northumbrian Folksong

Instrumentation:

children's choir (Mez) and 3 recorders (SSA)

Product number:

ED 12051-10

Northumbrian Folksong

Instrumentation:

children's choir (Mez) and 3 recorders (SSA)

Product number:

ED 12051-01