© Zaleski Enterprises
Gavin Bryars
Pays d'origine:
Royaume-Uni de Grande-Bretagne et Irlande du Nord
Date d'anniversaire:
16 janvier 1943
À venir
1 décembre 2023 | Liverpool (Royaume-Uni de Grande-Bretagne et Irlande du Nord) , Capstone Theatre, Hope University
1 décembre 2023 | Liverpool (Royaume-Uni de Grande-Bretagne et Irlande du Nord) , The Capstone Theatre, Liverpool Hope University
À propos de Gavin Bryars
The music of Gavin Bryars falls under no category. It is mongrel, full of sensuality and wit and is deeply moving. He allows you to witness new wonders in the sounds around you by approaching them from a completely new angle. With a third ear maybe... - Michael Ondaatje
Gavin Bryars studied philosophy at Sheffield University and became a professional jazz bassist and a pioneer of free improvisation, working especially with Derek Bailey and Tony Oxley. In the late 1960s he worked with John Cage and this influenced early works such as the indeterminately scored The Sinking of the Titanic (1969) and the iconic Jesus' Blood Never Failed Me Yet (1971). From 1969 to 1978 he taught in departments of Fine Art at Portsmouth College of Artand Leicester Polytechnic, where he founded the department of music. He collaborated frequently with visual artists such as Bruce McLean, Tim Head, James Hugonin, Bill Woodrow, Will Alsop, and Juan Muñoz with whom he wrote A Man in a Room, Gambling (1992), and made installations and performance art for Tate Liverpool, Tate St. Ives, Chateau d'Oiron and other galleries.
Bryars' catalogue includes an extensive body of works for dance. Numerous choreographers have been drawn to his music, and he has collaborated on new works with the likes of Lucinda Child, Laurie Booth, William Forsyth, and David Dawson. In 1999 he wrote BIPED with Merce Cunningham, and in 2002 he worked with Carolyn Carlson on Writings on Water for the Venice Biennale, which included The North Shore (2004) for solo viola, piano and strings, In Nomine (after Purcell) (1995; 2002) for strings, and the Violin Concerto "The Bulls of Bashan" (2000) among other works. In recent years Bryars has worked with Edouard Lock on a number of projects including The Third Light (2009), Amjad (2007) which toured internationally for two years, 11th Floor (2014) for Cullberg Ballet, The Heart of August (2017) for Ballet Vlaanderen and Trick Cell Play (2019) premiered by Sao Paulo Dance Company. Most recently, Bryars Requiem (2018), for chorus and orchestra, was premiered by the Dutch National Ballet and Matthew Row with choreography by David Dawson in 2019.
Bryars' opera Medea (1984) premièred at the Opéra de Lyon and Opéra de Paris and directed by Robert Wilson). It achieved critical success and led Bryars down a new compositional path. He has since written three further operas, two with libretti by his long time collaborator Blake Morrison: Doctor Ox's Experiment (English National Opera 1998, directed by Atom Egoyan, & also at Theater Dortmund, 1999), and G (2001-2, directed by Georges Delnon), commissioned by the Staatstheater Mainz for the Gutenberg 600th anniversary. Bryars' has written two chamber operas: The Paper Nautilus (2006) which was premiered by Theatre Cryptic, with further productions at Huddersfield Contemporary Music Festival and Long Beach Opera, and Marilyn Forever (2010-13), presented by Aventa Ensemble in autumn 2013 in Victoria, Canada, with further productions at the Adelaide Festival where he was Composer in Residence in February 2015 and at Long Beach Opera the following month. Bryars' most recent opera The Collected Works of Billy the Kid (2018) premiered in March 2018 presented by Percussion Clavier de Lyon in production with Théâtre de la Croix-Rousse, and subsequently toured through France, Switzerland, Belgium, the Netherlands and Hungary.
Bryars is particularly drawn to music for voice, resulting in a rich catalogue of choral and vocal works. Several fruitful collaborations with the Latvian Radio Choir and Estonian Male Voice Choir resulted in recordings on Bryars' own label, GB Records. For many years he has worked with early music performers on successive Books of Madrigals: Book One (1998-2000) for The Hilliard Ensemble (texts by Blake Morrison), Book Two for (2001-02) the Trio Mediaeval Sextet (Petrarch sonnets), Book Three (2003-05) for Red Byrd (Petrarch, translated by Synge), Book Four (longer Petrarch poems), Book Five ('I Tatti' madrigals) in 2013, Book Six in 2015 plus two books of Irish Madrigals. He has written a large number of Laude (2008-12) for soprano Anna Maria Friman based on medieval Italian chants and set Faroese saga poetry in Tróndur í Gøtu (2008) for the Faroese bass Rúni Brattaberg following their work together on settings of old Icelandic saga poetry. His collaboration with the Royal Shakespeare Company and Opera North, Nothing Like the Sun (2007), toured the UK in 2007. Amongst his more substantial works for chorus is the recent Requiem (2018), written as part of a large-scale ballet collaboration with choreographer David Dawson for Dutch National Ballet. The Fifth Century (2014) for choir and saxophone quartet was premiered by The Crossing and Prism Saxophone Quartet and an ensuing recording with ECM went on to win a 2018 Grammy Award for Best Choral Performance. A Native Hill, Bryars' second work for The Crossing, was premiered and recorded in 2019. New to his list of vocal works includes his arrangement Jesus' Blood Never Failed Me Yet (2018) for choir and pre-recorded tape which received its premiere by The Song Company and Antony Pitts in 2021.
2023 sees the 80th birthday year of Bryars which has seen performances by the London Philharmonic Orchestra, Estonian National Male Choir, Kammerchor Berlin, and the world premiere of Harpsichord Concerto (2023) by Mahan Esfahani and the Royal Liverpool Philharmonic Orchestra.
Bryars has produced a large body of chamber music, much of it written for his own ensemble, and works for string orchestra. His catalogue includes concertos for violin, viola, cello, double bass (plus one for jazz bass), saxophone, bass oboe and piano. His work has been widely recorded on labels including ECM, Hyperion, Point, Philips, Argo, Touch, Mode, and his own GB Records. In 2020, Le Mot et le reste published Jean Louis Tallon's Gavin Bryars: En paroles, en musique.
© Zaleski Enterprises
© Kate Mount
© M Nicolaou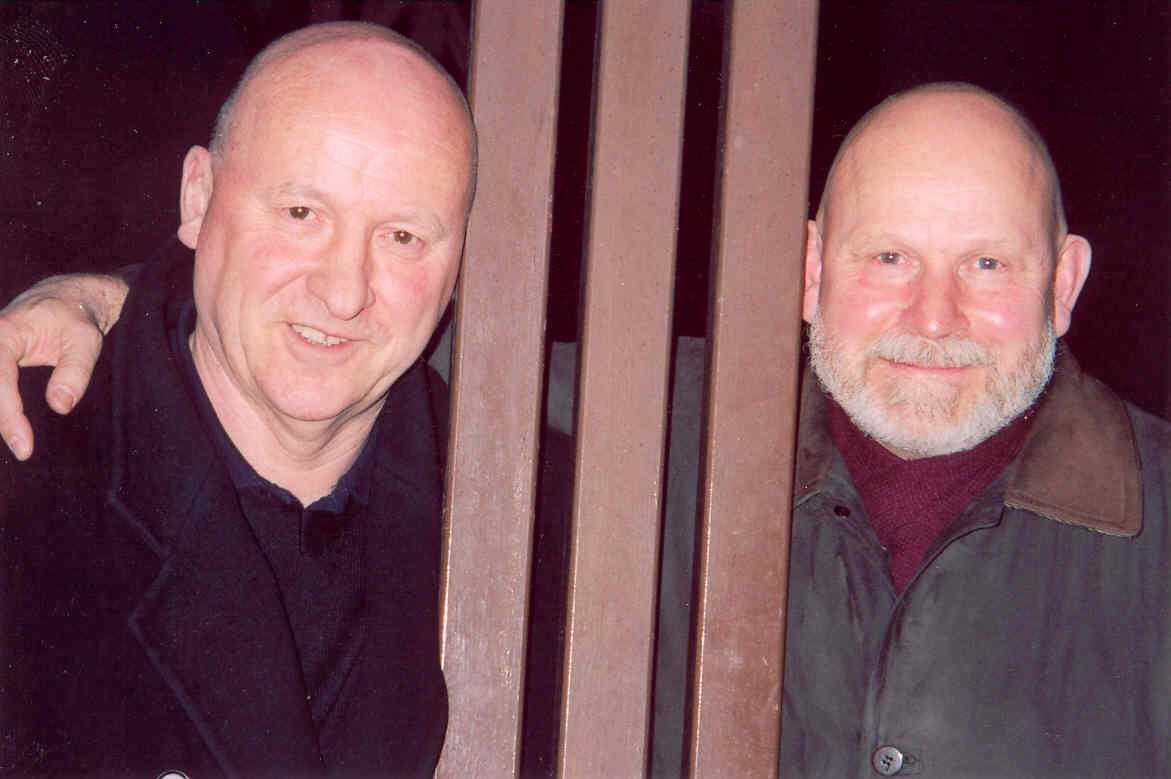 Bryars and Peteris Vasks (2003)
For high resolution photos, please contact: infoservice@schott-music.com
1898
Father Walter Joseph Bryars (postman), born February
1898
Morgan Robertson publishes "Futility, or The Wreck of the Titan"
1907
Mother Miriam Eleanor Hopley (housewife, amateur cellist), born June
1910
Raymond Roussel's "Locus Solus" published
1912
RMS Titanic sinks on maiden voyage at 41° 43.5'N 49° 56.8'W, North Atlantic, April 14/15
1914
Raymond Roussel's "Impressions d'Afrique" published
1918
Marcel Duchamp gives up art for chess
1930
Sister Pamela, born January
1931
Sister Hazel, born September
1933
Death of Raymond Roussel, July 14
1935
Brother Andrew, born September
1940
Death of Goole-born marine artist Reuben Chappell (b. 1870)
1943
Richard Gavin Bryars born, January 16, Hook (near Goole), East Yorkshire
1943
"New Complexity" composer Brian Ferneyhough born, also January 16; GB points to the differences in their upbringings: "Ferneyhough was born in Coventry, which was subject to heavy German bombing, whereas I was brought up in Goole, where the only wartime incident was when two RAF planes collided over the river. I became a kind of laid-back English ironist and he became a hard-line European modernist"
1944
Brother Quentin, born May
1946
"My first clear memory is of my mother practising the cello."
1948
Collège de "Pataphysique" founded
1950
Death of Gerald Tyrwhitt(-Wilson), Lord Berners (b. 1883)
1952
Father dies, June 15
1954
Gavin Bryars attends Goole Grammar School, to 1961: "Generally a very enjoyable time, especially in the later years"
1954
Encounters the work of Jules Verne
1955
Walter Lord publishes "A Night to Remember", about Titanic sinking; subsequently filmed
1956
Death in Glasgow of Harold Bride, junior wireless officer, RMS Titanic, April 29
1957
"Four of us started to try to play jazz. I was playing piano at that time."
1957
John Cage begins course on experimental composition at New School of Social Research, New York (to 1959)
1957
Goole AFC reach third round of F.A. Cup before going down to Nottingham Forest
1958
Death of composer Joseph Holbrooke (b. 1878)
1960
Cyril Ramsay introduces Gavin Bryars to music of John Cage
1960
Foundation of Oulipo (Ouvroir de littérature potentielle), as a branch of the Collège de 'Pataphysique, November
1961
On leaving Goole Grammar School, with – to the school's surprise – high A level marks, geography and sixth form master Arnold Chappell comments: "You know, Bryars, you're not going to be able to get through life relying on your gift for improvisation"
1961-64
Studies philosophy at the University of Sheffield
1961
Takes up double bass; reads extensively, and particularly in modern Irish literature
1961
Death of Percy Grainger (b. 1882)
1961
Pianist Bill Evans (1929-1980) performs and records at Village Vanguard club, New York City, June
1961
Death of Evans' bassist Scott La Faro (1936-1961) in motor accident at Flint, NY, July 6
1961
George Maciunas (1931-1978) uses Fluxus name for first time
1962
Meets guitarist Derek Bailey (1930-2005), drummer Tony Oxley (b.1938) and pianist Gerry Rollinson (b.1938)
1963
Cornelius Cardew (1936-1981) begins his open-form piece "Treatise" (1963-1967)
1964
GB plays summer season at St Brelades Bay Hotel, Jersey, with Bailey and Rollinson, Easter; flies back to sit final university examinations, June; GB graduates BA, University of Sheffield
1964-66
Studies bass at Northern School of Music
1964
Forms trio Joseph Holbrooke with Bailey and Oxley, autumn
1965
GB teaches music, Drax Grammar School (now the Read School), near Selby, Yorkshire
1965
Studies composition with George Linstead (1908-1974)
1965
House bassist, Greasborough Working Men's Club, January, to August 1966; singer Lulu is heard to say backstage, "Listen to him; he's intelligent"
1965
Improvising group, AMM, formed by saxophonist Lou Gare (1939-2017), percussionist Eddie Prévost (b. 1942) and guitarist Keith Rowe (b. 1940)
1966
GB tours north of England with saxophonist Lee Konitz (b. 1927), Bailey and Oxley, March: "The discographies all say "unknown bassist" but that was me"; see how the Cunningham company integrated music and dance. It had a huge effect on me as a composer."
1966
Sees Merce Cunningham (1919-2009) Company at Saville Theatre, London, and meets John Cage (1912-1992)
1966
Plays bass for tap dancer Will Gaines on ITV's "Sunday Night at the London Palladium"
1966
Stops freelance playing and teaches at Northampton Technical College and School of Art, September
1966
Stops playing bass (till 1983) and abandons jazz and improvisation following performance at Little Theatre Club, St Martin's Lane, London, November
1966
City of Leicester Polytechnic formed, on basis of former Leicester School of Art (founded 1870)
1966
Death of Surrealist "pope" André Breton (b. 1896), September 28
1966
Yoko Ono meets John Lennon under her piece "Hammer a Nail" at Indica Gallery, London, November 9
1967
GB leaves Northampton Technical College
1967
Makes music for Stephen Dwoskin's (1939-2012) film "Me, Myself & I" and other film work (some with Ron Geesin) with Dwoskin, to 1976
1967
GB writes early work "Sixteen Fragments" for Solo Guitar for Derek Bailey, subsequently hopes "it went up in flames when Derek was cremated"; treated for depression, but subsequently diagnosed as "schizophrenic"!, spring.
1968
GB visits US, January, at invitation of dancer Powell Shepherd; lives in Champaign-Urbana, Illinois, working with composers and dancers at University of Illinois.
1968
Studies composition with Ben Johnston (1926-2019)
1968
Album release of AMM's The Crypt by Matchless Records
1968
After further encounter in New York and Illinois, works as Cage's assistant
1968
Sees Gunther Schuller's (b. 1925) opera The Visitation at University of Illinois; meets composer Cornelius Cardew (1936-1981) and begins working with pianist John Tilbury (b. 1936); moves to London; performs at ICA exhibition of computer art "Cybernetic Serendipity", curated by Jasia Reichardt (b. 1933), autumn.
1968
"Mr Sunshine (key)", performed Kingston, December.
1968
Death of Marcel Duchamp, October 2.
1968
Michael Nyman (b. 1944) uses the term "minimalist" for the first time in a musical context in an article for the Spectator on Cornelius Cardew.
1968
Promenade Theatre Orchestra formed by composer John White (b. 1936): GB says, "John is one of the great living composers, a real unsung hero, an absolute genius".
1969
GB teaches at Portsmouth Art College, from January
1969
"Marvellous Aphorisms are Scattered Richly Through These Pages" premieres in Cardiff
1969
First version of "The Sinking of the Titanic", written "in support of beleaguered art students".
1969
Christopher Hobbs forms Experimental Music Catalogue; Scratch Orchestra founded by Cornelius Cardew, Howard Skempton (b. 1947) and Michael Parsons (b. 1938), to c. 1974;
1969
Cage's "HPSCHD", with contributions by GB, premiered at Champaign-Urbana.
1970
GB forms Portsmouth Sinfonia; in London, meets composers Steve Reich (b. 1936) and Philip Glass (b. 1937); begins teaching in department of fine art, Leicester Polytechnic, September.
1970
"Serenely Beaming and Leaning On A Five Barred Gate" premieres at Portsmouth College of Art
1970
"The Ride Cymbal and the Band That Caused the Fire in the Sycamore Trees" (key), performed London, October.
1970
Tom Phillips publishes first version of "A Humument", his "treated" Victorian novel; further editions in 1980, 1988, 1990 and 2005.
1970
Harold Budd (b. 1936) creates "The Candy Apple Revision", D♭ chord for any instrumentation), subsequently records with Bryars for Obscure.
1971
Marries Angela Margaret Bigley (b. 1948), January 22
1971
Plays (with Christopher Hobbs) Erik Satie's "Vexations" ('Pour ce jouer 840 fois de suite ce motif, il sera bon se preparer au prealable, et dans le plus grand silence, par des immobilites serieuses'), Fletcher Building, Leicester Polytechnic.
1971
World premiere of "1, 1, 1-2-3-4" in Liverpool
1971
Derek Bailey records "The Squirrel and the Ricketty-Racketty Bridge" , for two guitars (Incus).
1972
GB moves to Ladbroke Grove, London; co-owns house with Steve Dwoskin
1972
London premieres of "The Sinking of the Titanic" and "Jesus' Blood Never Failed Me Yet"
1972
Tours as member of Reich's ensemble performing Drumming Music; takes over running of Experimental Music Catalogue
1972
GB stops composing; teaches two-year course on Marcel Duchamp, with Fred Orton (b. 1945): "The two years I spent studying and teaching the work of Marcel Duchamp showed me how art can be made intelligently, elegantly and with wit. For me he and Cage are the most important artistic figures of the 20th century."
1972
Centenary of first publication of Jules Verne's (1828-1905) "Une fantaisie du docteur Ox".
1973
First of many performances of GB's work in Belgium arranged by Hervé Thys at Palais des Beaux Arts, Brussels.
1973
Gavin Bryars' Mother remarries, Dr Sidney Appleton, July and Michael Nyman (b. 1944) publishes Experimental Music: "Cage and Beyond".
1974
GB elected to Collège de "Pataphysique", one of only 6 British born members.
1974
Meets American composer John Adams (b. 1947) following a year-long correspondence and works with him in San Francisco.
1975
GB takes part in one-off performance of "The Sinking of the Titanic" at Lucy Milton Gallery, Notting Hill Gate, with John Adams and Christopher Hobbs (b.1950) on tuba, reed organ and tubular bells; "It was an interesting concert, and just before each piece there was a wild flutter of clicking noises as all the members of the audience seemed to possess a cassette recorder and were recording it!"
1975
Records "The Sinking of the Titanic" and "Jesus' Blood Never Failed Me Yet" for Brian Eno's (b. 1948) newly established Obscure Editions
1975
World premiere of "Ponukelian Melody" at Lucy Milton Gallery, London
1976
GB publishes article on Lord Berners and "Notes on Marcel Duchamp's Music" in Studio International; commissioned by Berners' companion and heir Robert Heber Percy (d. 1987) to write Berners biography
1976
World premiere of "White To Play (and Win)" in Palais des Beaux-Arts, Brussels
1976
Meets Duchamp expert and pataphysician Jacques Caumont and becomes member of OULIPOPO (Ouvroir de literature policière potentielle).
1976
Death of novelist and pataphysician Raymond Queneau (b. 1903); director Peter Greenaway (b. 1942) makes a film called "Goole By Numbers".
1977
GB and others realise Tom Phillips' (b.1937) opera "Irma"; never performed but recorded for Obscure.
1977
"Garden furniture" concert organised by John White at Air Gallery, London, inspires "Poggioli in Zaleski's Gazebo".
1977
Performs with Chris Hobbs at Weekend of Minimal Music in Holland Festival (others included LaMonte Young, Terry Riley, Philip Glass, Pandit Pran Nath, Louis Andriessen).
1978
GB founds music department, Leicester Polytechnic; writes new performing arts degree (with Noel Witts and Peter Brady).
1978
"My First Homage" premieres in New York by Dave Smith and Gavin Bryars
1978
Two-piano concerts with Dave Smith (b. 1949), The Kitchen, New York.
1978
Meets Slovak composer Ladislav Kupkovič: "What he does, in essence, is to get rid of the avant-garde".
1978
Death of stepfather Dr Appleton, July.
1979
GB advises and curates Grainger, Berners and Sorabji material at Autumno Musicale festival, Como; performs two concerts with new ensemble in Chapelle de la Sorbonne, Paris, for Festival d'automne, November.
1979
"The Cross-Channel Ferry" premieres in Paris
1980
Birth of first daughter Ziella, February 24
1980
GB appointed British Ambassador to Fondation Erik Satie.
1980
"The Vespertine Park" premieres in Paris
1980
"The English Mail Coach" receives its first performance in London
1980
Death of pianist Bill Evans, September 15.
1981
Meets director Robert Wilson (b. 1941) and begins collaboration on sketches for the "CIVIL WarS", intended for the 1984 Olympics
1981
GB begins work on opera "Medea" for La Fenice, Venice.
1981
Closure of Experimental Music Catalogue
1981
Death in hit-and-run accident of Cornelius Cardew, December 13.
1982
GB completes work on "Medea", June; opera cancelled before projected September premiere
1982
Birth of second daughter Orlanda, December 4
1983
GB's 40th birthday; wins High Court action against Stephen Dwoskin, after two-week trial.
1983
"Les Fiançailles" premieres in Vienna
1983
Begins performing jazz again, with saxophonist Conrad Cork
1983
Suspends work on Berners biography, subsequently completed by Mark Amery, using GB's research.
1984
GB works on French section of the "CIVIL WarS" at monastery of La Sainte Baume, near Marseille; meets Lebanese-American poet Etel Adnan (b. 1925), the writer on the project.
1984
Works at Opéra de Lyon on production of "Medea" for Lyon and Paris
1984
"Effarene" premieres at St John Smith's Square
1984
Los Angeles Olympics; full-scale presentation of the "CIVIL WarS" cancelled through shortage of funds, April.
1985
GB meets Manfred Eicher (b. 1943) of ECM Records and begins to record for him; meets Hans-Jurgen Syberberg and discussed possible collaboration on Kant opera with him.
1985
"String Quartet No 1" (Between the National and the Bristol), premieres in Vienna
1985
Wreck of RMS Titanic discovered, September 1; death of sister Hazel, October.
1986
GB attends Reginald Goodall's ( 1901-1990) "revelatory" performance of Wagner's "Parsifal", English National Opera, Good Friday; travels to Japan the next day; separates from Angela and moves to small apartment on Scraptoft campus, Leicester.
1986
ECM recording "Three Viennese Dancers" released
1986
First official performance of Gavin Bryars Ensemble, in Gent, Belgium
1986
Also forms the Leicester Bley Band to perform the music of Carla Bley (b. 1938).
1986
Erica Bolton and Jane Quinn appointed as GB's managers (till 2000).
1986
"Pico's Flight" premieres in London
1986
"Sub Rosa" (ensemble; after Bill Frisell), performed Gent, November.
1987
Awarded personal chair in music at Leicester Polytechnic
1987
Works with Carla Bley and bassist Charlie Haden (b. 1937) who performs "By The Vaar" at Camden Jazz Festival, May.
1987
"The Old Tower of Löbenicht" premieres at Almeida Festival
1987
Plays with Lee Konitz again, with Conrad Cork and John Runcy; works at Leicester Haymarket theatre, creating incidental music; pianists Leslie Howard and Martin Jones join Gavin Bryars ensemble.
1988
Performs "Invention of Tradition" at opening of Tate Liverpool
1988
"Glorious Hill" premieres at Hilliard Festival of Voices, Lewes
1988
Bombing of Pan Am Flight 103 over Lockerbie, Dumfries and Galloway, Scotland; Bill Cadman is one of 270 victims, December 21.
1989
GB works with guitarist Bill Frisell (b. 1951) who said "Gavin is amazing and listening to what he had done [Sub Rosa] with my work was like a crazy dream".
1989
"Cadman Requiem" premieres at the Conservatoire de Lyon
1989
Delta Saxophone Quartet premieres "Alaric I or II"
1990
Performs "The Sinking of the Titanic" in converted water tower, Printemps de Bourges Festival
1990
Channel 4 broadcasts television documentary on Bryars' work, produced by David Rowan
1991
"After the Requiem" (guitar, violas, cello; for Frisell and Cadman), performed (in studio) Oslo, September
1991
Balanescu Quartet premieres "String Quartet No 2" at Huddersfield Contemporary Music Festival
1991
"Four Elements" (dance; ensemble), performed Oxford, November
1992
GB moves to village of Billesdon, Leicestershire
1992
"The White Lodge" premieres at London's Nettlefold Festival
1992
Meets sculptor and sound artist Juan Muñoz (1953-2001).
1992
"A Man in A Room, Gambling" (speaking voice, quartet; after Muñoz), performed (studio), April
1992
"The Black River" (soprano, organ; after Verne), performed Leicester
1992
"The Green Ray" (saxophone, orchestra; inspired by Verne), performed Swanage, July
1992
Death of John Cage, August 12.
1993
Makes first visit to Canada for concert with Canadian Broadcasting Corporation, creates installation at Chateau d'Oiron, Deux-Sèvres
1993
Point Recording of "Jesus' Blood Never Failed Me Yet", with vocals by Tom Waits (b. 1949) is nominated for Mercury Music Prize
1993
Electric guitarist James Woodrow and violist Bill Hawkes join Gavin Bryars Ensemble.
1993
Performs "The Sinking of the Titanic" with daughters Ziella and Orlanda in ensemble, London and Festival Theatre, Edinburgh.
1993
"The War in Heaven" (voices, ensemble, percussion; after Genesis, Sam Shepard, etc), performed London, April
1993
"The North Shore" (viola, piano; viola, strings), performed (i) Edinburgh, October, (ii) London, June 1994.
1994
GB gives up teaching at DeMontfort University; finds "lost" MS of "On Photography" behind a filing cabinet while clearing his office: "It was like walking into a pub and seeing someone you vaguely recognise and then discovering it's an uncle you haven't seen for years".
1994
"Wonderlawn" is premiered Gardner Arts Centre, Brighton
1994
"One Last Bar Then Joe Can Sing" (percussion), performed London, November.
1994
Schott becomes GB's music publisher.
1995
"The South Downs" (cello, piano), performed Bath, March
1995
"Cello Concerto" (Farewell to Philosophy) is premiered by the English Chamber Orchestra
1995
Revision to "Medea" (new opening scene, reinstating cut scenes, cutting one scene), performed Glasgow, November.
1996
"The Adnan Songbook" premiered by Gavin Bryars Ensemble at Almeida Theatre
1997
GB is guest composer, Hilliard Summer School, Cambridge, July
1997
Premieres of "And so ended Kant's travelling in the world" and "Thee Poems of Cecco Angioleri" in Cambridge
1997
"Expressa Solis" (voices; after Pope Leo XIII), performed Cambridge, July.
1997
Projected ENO premiere of opera "Dr Ox's Experiment", with libretto by poet Blake Morrison (b.1950), is cancelled.
1998
English National Opera performs world premiere of "Doctor Ox's Experiment"
1998
GB meets Tony Creamer, treasurer of Merce Cunningham Dance Company; beginning of long friendship and work together in Philadelphia
1998
Death of mother Miriam Appleton, December 25; Bryars writes "A Time and A Place" performed at her funeral
1998
Reunion in Cologne of Joseph Holbrooke trio with Bailey and Oxley, to mark Oxley's 60th birthday, September
1998
Meets film-maker Anna Tchernakova following invitation to work on film "Unless the Eye Catch Fire" (later retitled Last Summer) in Victoria, British Columbia
1998
"String Quartet No 3", performed Cheltenham, July
1998
Lockerbie Memorial Concert, December 21
1999
BP meets singer Holly Cole, Winnipeg, January; writes first madrigals: "Like everyone else I'd sung them with friends, after a few drinks".
1999
Premiere of "BIPED" by the Merce Cunningham Dance Company
1999
Marries Anna Tchernakova (b. 1968)
1999
Meets bassist Gary Karr (b. 1941) in Victoria
1999
"When Harry Met Addie" (voice, big band; i.m. Adelaide Hall), performed London, May
1999
"Creation Hymn" (choir, orchestra), Billesdon, Leicestershire, December.
String Quartet No 3, performed Cheltenham, July
2000
Broadcast of West German tv portrait
2002
World premiere of opera "G..." in Mainz
2002
GB meets Faroese bass Rúni Brattaberg
2002
GB performs improvising bass part in his own "By the Vaar", originally written for Charlie Haden, on last night of Vancouver Jazz Festival, followed by recording for CBC: "I didn't feel even remotely nervous. I thought "Hang on". This is a piece for an improvising bass player, and I'm both the composer and the improviser ... it has to be authentic – I can do no wrong"
2002
GB's family moves Canadian home from Victoria to Metchosin, BC, Vancouver Island, June. Made Regent of the Collège de 'Pataphysique
2002
"Toru's Mist" (shakuhachi, violin, piano, untuned percussion), performed Brighton, May
2002
Death of Earle Brown (b. 1926)
2003
"Double Bass Concerto" premieres by Duncan McTier and the BBC Scottish Symphony Orchestra
2003
First visits to Baltic states, which lead to strong connection with Latvia and Estonia
2003
Begins writing "laude"; meets singer Anna Maria Friman who joins Gavin Bryars Ensemble
2003
"Second Book of Madrigals" (tenor voice; after Petrarch), performed (i) Norway, April, in part, (ii) Cambridge, July, complete
2003
"I have heard it said that a spirit enters" (jazz contralto voice, jazz bass, winds, strings; after Marilyn Bowering), performed Vancouver, June
2004
GB performs Irish madrigals in Dublin and meets singer and producer Iarla Ó Lionáird (b. 1964) of Afro Celt Sound System
2004
"Third Book of Madrigals" premieres at Huddersfield Contemporary Music Festival
2004
Tenor John Potter (b. 1947) joins Gavin Bryars Ensemble, May
2004
GB's first visit to Faroe Islands, June
2005
"Fourth Book of Madrigals" (eight-part voices), performed Florence, May
2005
"From Egil's Saga" premiered by London Sinfonietta and Cambridge University Chamber Choir
2005
"New York" (tuned percussion), performed Île St-Clair
2006
GB works with turntablist Philip Jeck for first time, La Malibran, Venice, and subsequently on 70th birthday piece for Steve Reich; works with Estonian National Men's Choir for first time
2006
"The Stones of the Arch" premiered by the Kronos Quartet & Theatre of Voices at Barbican Hall, London
2006
"The Paper Nautilus" (soprano, mezzo, 2 pianos, 6 percussion; after Marie Curie, Vulgate, Jackie Kay, etc), performed Glasgow, November
2006
Cornelius Cardew 70th birthday memorial event, Cecil Sharp House, London, April
2007
GB first works with Opera North projects
2007
Premiere of "To Define Happiness" commissioned by von Krahl Theatrein Tallinn
2008
GB meets Faroese singer Eivør Palsdottir and conducts work for her and Rúni Brattaberg in Faroe Island
2009
GB makes first series of collaborations with Villa I Tatti, Florence
2009
World premiere of "Cadman Requiem" with John Potter, The 24, and Gavin Bryars Ensemble in York
2009
"St Brendan Arrives at the Promised Land of the Saints" (SATB, violin, organ), performed Oakham, May
2009
Death of Merce Cunningham, July 26
2009
Last survivor of Titanic, Milvina Dean, dies at 97, May
2010
GB begins workshops for Marilyn Monroe chamber opera, Banff, Canada
2010
World premiere of "The Third Light", commissioned by Koninklijk Ballet van Vlaanderen
2011
After final performances involving GB and his music, Merce Cunningham company disbands, December: "A fitting end to a long association, but very emotional"
2011
Queens Park Rangers win League Championship; promoted to Premier League
2012
Titanic centenary performances (with all four of GB's children involved) of "The Sinking of the Titanic" in Birmingham, London, Paris, Prague and Cork
2012
"The Open Road" performed by Streetwise Opera as part of their interactive opera "The Answer to Everything" involving homeless people from all over the UK
2012
Premiere of "After the Underworlds" performed by the National Youth Brass Band of Great Britain at the BBC Proms
2012
"Psalm 141" premiered at the Vale of Glamorgan Festival with Soli Deo Gloria
2012
"The Beckett Songbook" commissioned and presented at the inaugral Happy Days: Enniskillen International Beckett Festival
2012
Norwegian Chamber Orchestra present "The Voice of St Columba" with the Hilliard Ensemble as part of their farewell year
2013
Performances of "Cadman Requiem" with Fretwork
2013
Featured composer at the Canberra International Music Festival
2013
"Marilyn Forever" premieres at the McPherson Playhouse, Victoria, Canada, performed by Aventa
2013
"BIPED" presented by the Bayerische Staatsballet with the composer playing in the ensemble, the first performances sanctioned by the Merce Cunnigham Trust
2014
"Pneuma" is premiered by the Ballet de l'Opéra National de Bordeaux with Philip Jeck, turntable maestro and choreography by Carolyn Carlson
2014
PRISM Saxophone Quartet, The Crossing, and Donald Nally premieres "The Fifth Century" in Philadelphia
2016
Premiere of "The Stopping Train" with Gavin Bryars Ensemble and Blake Morrison, narrator
2018
ECM New Series album The Fifth Century wins Grammy Award for Best Choral Performance
2018
"The Collected Works of Billy the Kid" premieres at le Théâtre de la Croix-Rousse with Claron McFadden, soprano, Bertrand Belin, baritone and Percussions Claviers de Lyon
2019
Dutch National Ballet and Matthew Rowe premieres "Requiem" in Amsterdam
2020
Publication of Jean Louis Tallon's Gavin Bryars : en paroles, en musique
2021
The Song Company premieres choral arrangement of "Jesus' Blood Never Failed Me Yet" in Melbourne
2022
"Wittgenstein Fragments" premieres with Juliet Fraser, soprano, Silvija Ščerbavičiūtė, flute, and the Esposito Quartet
2023
World Premiere of "Harpsichord Concerto" by Mahan Esfahani at the Royal Liverpool Philharmonic Orchestra
Music for dance performance, original choreography by Édouard Lock

Media Type:

Matériel en location / d'exécution

Edition:

Matériel d'exécution

Instrumentation:

2 verstärkte Cembali

for instrumentalists/vocalists

Media Type:

Matériel en location / d'exécution

for ensemble

Media Type:

Matériel en location / d'exécution

Edition:

Matériel d'exécution

Instrumentation:

ensemble

for recorder sextet

Instrumentation:

6 flûtes à bec (AATTBB)

Numéro du produit:

ED 13240-10

for recorder sextet

Instrumentation:

6 flûtes à bec (AATTBB)

Numéro du produit:

ED 13240

Fourth Book of Madrigals No. 2

Edition:

Partition de choeur

Instrumentation:

choeur mixte (SATB)

Numéro du produit:

ED 13082

music for a site-specific installation

Media Type:

Matériel en location / d'exécution

Edition:

Matériel d'exécution

Instrumentation:

ensemble

for pre-recorded voice and orchestra

Media Type:

Matériel en location / d'exécution

Edition:

Matériel d'exécution

Instrumentation:

pre-recouded voix ou live récitant et orchestre

for pre-recorded voice and string quartet

Media Type:

Matériel en location / d'exécution

Edition:

Matériel d'exécution

Instrumentation:

Sprecher (ad libitum vom Tonband) und Streichquartett

Numéro du produit:

ED 12676

for harpsichord

Instrumentation:

clavecin

Numéro du produit:

ED 12607

for electric guitar, 2 violas and cello

Instrumentation:

guitare électrique, 2 altos et violoncelle

Numéro du produit:

ED 13275-10

for electric guitar, 2 violas and cello

Instrumentation:

guitare électrique, 2 altos et violoncelle

Numéro du produit:

ED 13275

for septet

Media Type:

Matériel en location / d'exécution

Edition:

Matériel d'exécution

Instrumentation:

clarinette basse, guitare électrique, 2 altos, violoncelle et contrebasse

for electric guitar and strings

Media Type:

Matériel en location / d'exécution

Edition:

Matériel d'exécution

Instrumentation:

guitare électrique et cordes

for brass band

Media Type:

Matériel en location / d'exécution

Edition:

Matériel d'exécution

Instrumentation:

Brass Band

for saxophone quartet

Edition:

Partition et parties

Instrumentation:

Quatuor de saxophone

Numéro du produit:

ED 12476

for soprano saxophone or clarinet and piano trio

Edition:

Partition et parties

Instrumentation:

saxophone soprano/clarinette en si bémol, violon, violoncelle et piano

Numéro du produit:

ED 12783

for soprano saxophone or clarinet and piano

Edition:

Partition et partie

Instrumentation:

saxophone soprano (clarinette) et piano

Numéro du produit:

ED 12877

for soprano saxophone or clarinet and ensemble

Edition:

Partition d'étude

Instrumentation:

saxophone soprano ou clarinette et percussion, piano, guitare électrique, violon et contrebasse

Numéro du produit:

ED 12804